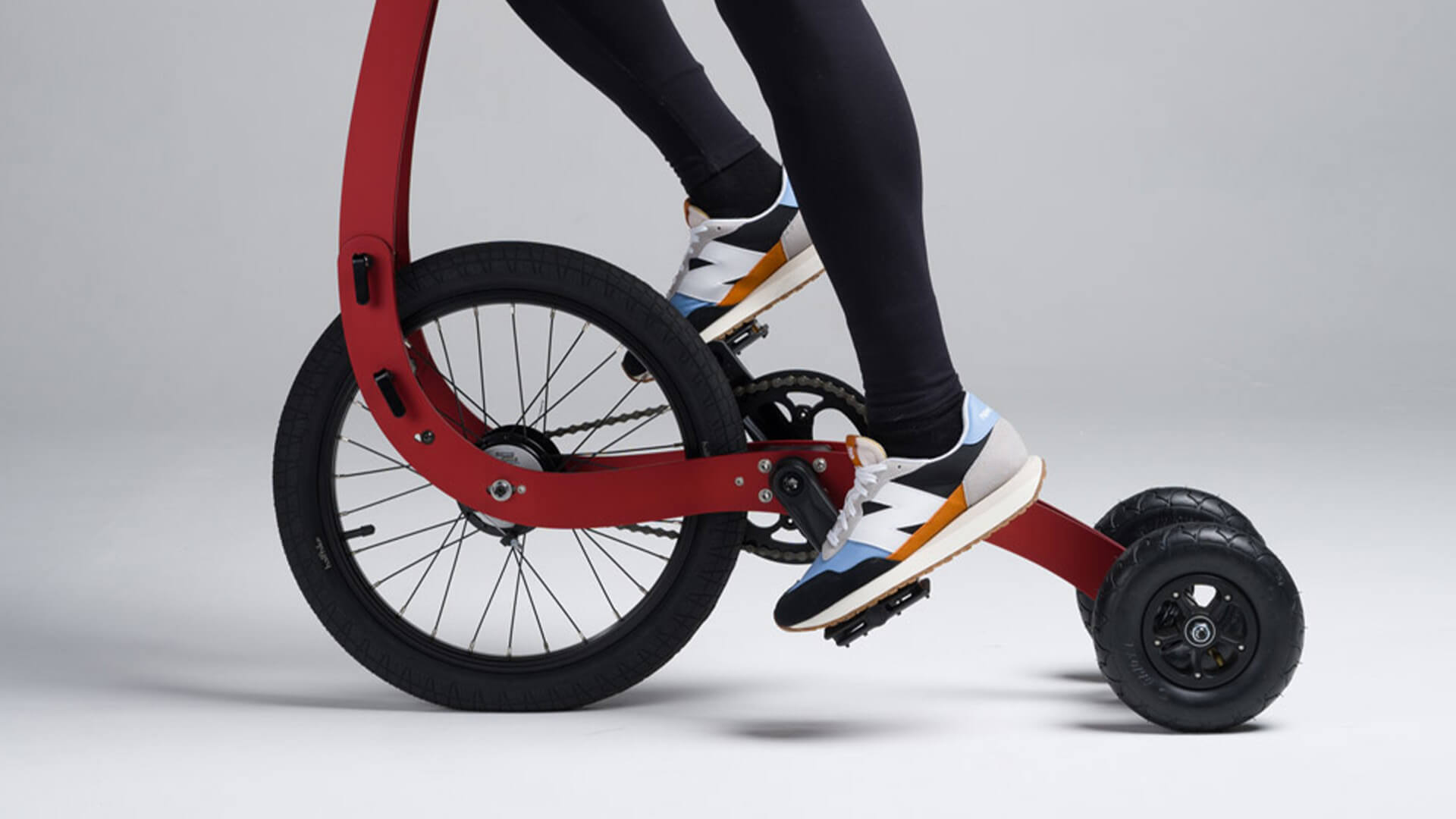 The smallest full-body training machine-Halfbike
---
Halfbike is an innovative fitness device designed around the natural standing posture of the body. Riding it comes intuitively, and its lean-to-steer steering system ensures easy control. This device seamlessly combines elements of cycling, running, and skiing into a singular, engaging experience. The smallest full-body training machine Halfbike is for individuals who relish outdoor activities and staying active, Halfbike provides a distinct exercise option that spans a wide spectrum.
With its holistic approach to physical well-being, Halfbike becomes an ideal choice for those seeking comprehensive fitness benefits.
And the most delightful aspect of it all? It's a workout that's genuinely enjoyable!
Feature
Full-body workout

Low-impact training

Cardio beyond comparison

Unique balance training
Upright Body Position
The Halfbike is meticulously crafted to align with the body's innate standing posture, resulting in a truly unmatched riding experience. This naturally upright stance facilitates an instinctive sense of balance and control while on the bike. Furthermore, the upright riding position encourages more profound and effortless breathing, leading to improved overall circulation, heightened VO2 max, and a heightened state of mindfulness and attentiveness.
Full Body Workout
Participating in Halfbike riding forms a well-rounded exercise routine that efficiently strengthens all major muscle groups in a seamlessly integrated manner. As you ride, the lower body, core, and upper body remain consistently engaged throughout. Additionally, the lean-to-steer turning system is designed to specifically address and enhance core muscles, encompassing the abdominal muscles, obliques, hip flexors, and back muscles. This comprehensive approach nurtures the holistic development and fortification of the entire body, making a significant impact not only on muscular strength but also on the integrity of the skeletal system and tendons.
Unique Balance Training
At its core, riding a
Halfbike
is a unique and innovative way to train balance and reflexes. It requires continuous balance and focus that, in turn, stimulates the nervous system and improves both reaction time and reflexes. Riding a
Halfbike
reduces stress and improves overall brain function, leading to greater mental clarity and effectiveness. Furthermore, studies have shown a direct correlation between good balance and longevity.
Cardio Beyond Comparison
It's like taking an elliptical outdoors.
Halfbike
uses most major muscle groups in your body, including your heart. You can experience increased circulation, decreased blood pressure, and overall improvement in heart health after riding it for just 20 minutes a day. The unique combination of low-impact training with a natural body position makes
Halfbike
great for both cardio and aerobic exercises.
Low Impact Training
Riding a
Halfbike
is a unique exercise that blends elements from cycling, running, and skiing and engages the whole body. Numerous professional athletes and runners have incorporated
Halfbike
into their training routine, citing its ability to provide low-impact running conditions and reduce the risk of injury at the same time. It's like running on air, according to some runners. Ideal for everyday "easy on the joints" training and great for rehabilitation from stress or injury.
Specifications
Max rider height
Frame
Laser cut, made of aerospace-grade aluminum. This makes it light, yet strong enough to endure years of riding.
---
Gears
4 gears, housed and sealed within a hub by Sturmey-Archer – a manufacturer with over a century of experience in making internal gear hubs.
---
Brake
Drum brake, integrated in a Sturmey-Archer hub.
---
Crankset
Heavy-duty aluminum crankset with a hollow axle, used primarily for downhill bikes.
---
Tires
1 front tire – 18″x2.10″, 2 rear tires – 8″x2″; Innova
---
Dimensions / Halfbike
109 x 95 x 39 cm / 43 x 38 x 15 1/2 inches
---
Dimensions / Halfbike folded
47 x 100 x 39 cm / 18 1/2 x 40 x 15 1/2 inches