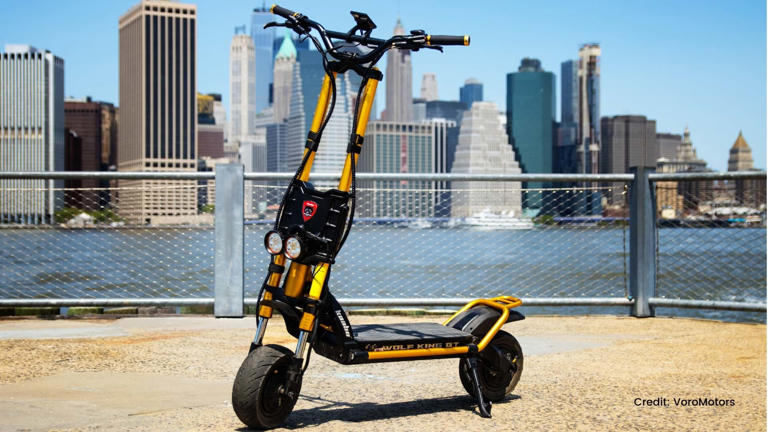 5 Electric Scooters From Voro Motors To Fit Every Need
This hot segment has exploded with new e-scooter types.
Emissions-free travel is the goal, but not every trip requires the power and weight of a full-size EV with four wheels and a steering wheel. Therefore, electric scooters are often the better tool for last-mile travel, urban commutes, and outdoor adventures.
Voro Motors is a global online manufacturer and seller of e-scooters. The company also has three of its own dedicated stores in the US – one in New York City, one in Los Angeles (shown below), and one in Kapolei, Hawaii.
Voro Motors also ships scooters worldwide and offers full product support backed by people you can actually talk to.
For the uninitiated, Voro Motors sells three separate brands of e-scooters – EMOVE, Dualtron, and Kaabo – each with its own personality.
The EMOVE brand offers a wide selection of electric scooters designed for long-range commuters. Dualtron e-scooters are built for performance with some of the fastest top speeds on the market. Kaabo is a line of rugged e-scooters built to handle rough terrain.
Why do people buy their e-scooters from Voro Motors? Aside from the wide variety it offers. Its customer service, fast and free shipping, easy financing and protection plans, and service options. As mentioned, the customer service is run by real people you can speak with over the phone, email, or via chat when you buy an e-scooter from Voro Motors.
It's shipped for free immediately and usually takes 2 to 5 business days to arrive. The company also offers plenty of financing options (in the US) that have low monthly payments. And servicing or repairing your e-scooter is a snap, ship it to their NYC, LA, or Hawaii location where it will be handled directly by the company's trained technicians.
Here's a list of five e-scooters from the EMOVE, Duatron, and Kaabo collections that could fit your lifestyle to a tee.
One charge of this long-range scooter equals two weeks of commuting. Its 62-mile range is perfect for commutes of 5 to 10 miles per day, and the deck can be upgraded with either a sit-down seat or a durable storage case.
The Cruiser S also features automotive-grade pneumatic tires, adjustable handlebars to fit all types of riders, and three throttle options (a thumb throttle, finger throttle, and twist throttle).
Its top speed of 33 miles per hour will get you where you're going fast, while the scooter's IPX6 water rating gives you peace of mind while riding during rain.
Anyone can get into e-scooters with this affordable but full-featured model. The Touring comes with a customizable control center that has a keystart ignition, a voltmeter, a horn, a bell, a light switch, and pull-release folding handlebars.
All these components can be easily replaced or upgraded because they are plug-and-play. The Touring has a full complement of lights. A low-mounted headlight, front and rear lights in the deck, and a taillight on the rear fender are the lights on the Touring.
The deck and fender lights even blink while braking! With a range of 32 miles and a top speed of 25 mph, this is a great scooter for first-time riders.
Voro Motors pioneered the sit-down scooter design, and it's within your reach thanks to the RoadRunner V2. This affordable model comes with a ton of available storage thanks to an optional center "pizza bag" that puts the wasted space within the frame to good use.
The RoadRunner V2 also has dual motors – one on each wheel – that give it enough power to handle on-road routes as well as off-road trails.
Moveable handlebars that fit any size person, a memory foam seat, and an adjustable front suspension with eight settings ensure your comfort. The RoadRunner V2 has a 50-mile range that can go up to 100 miles after a quick battery swap. You can easily remove and replace the battery. The RoadRunner V2 can go the distance with you.
This sit-down scooter features dual motors for the sure-footedness of all-wheel drive on two wheels. It also features a large 3.5-inch full-color information display that supplants the need to pair your phone via Bluetooth to change settings, and drive modes, or monitor the scooter's vitals.
This scooter's hydraulic front fork and dual rear spring suspension will keep you comfortable on all types of terrain. The RoadRunner Pro can go over 50 mph at its top speed. It has a single charge range of 50 miles. You can double the range to 100 miles by swapping the battery. The battery is easy to remove and replace.
Meet the zenith of e-scooters. The Wolf King GT can hit speeds up to 63 mph and travel as far as 74 miles on a single charge thanks to its giant 72V 35Ah battery. It can also go anywhere with its fat, tubeless tires, hydraulic front suspension, and rear spring suspension.
The Wolf King GT's lighting setup is second to none, with dual front headlights and LED running lights along the deck.
It's even got front and rear LED turn signals! The Wolf King GT's 4.2-inch color command display is the very best that Voro Motors offers. Order this e-scooter in gold for maximum effect.
We've shown you five e-scooters, but you can view dozens more, each with its own twist, at Voro Motors' website.
So keep your car in the garage (even if it's already electric) and consider an electric scooter from Voro Motors for your next quick trip, last mile, or outdoor adventure.
---
Relative topic: